While browsing the aisles of JJ (so happy that they extend their business hours till 11pm for the coming Raya celebrations), I chanced upon this attractively packed snack called "Apple Chips". The label says it's made from Fresh Fuji Apples and dehydrated gradually. What adds to the excitement was that the rm2 discount for JJ members, so from the normal price of rm6.25, I only need to pay rm4.25. So into the trolley it went, and it was such a breeze to shop so late in the night with no queue at the cashier counter since not many shoppers were aware of the extra hour for late-night shopping. In fact, it was the first day of the business hours extension, and we were caught by surprise also as we entered the mall and read the notice. Of course I was rejoicing, and needless to say, made maximum use of the time there.
I opened the packet rightaway upon reaching home, and it's nice, the apple chips. Just like what is normally found in mueslis, this was sliced thinner, thus crispier. Hmm...can throw some in for breakfast cereal the next morning, other than snacking on them.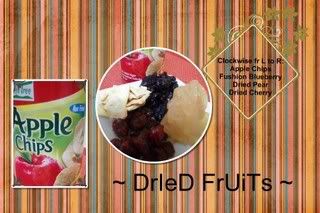 Then coincidentally, the next day, I saw some other dried fruits at another shop. I was curious to try them, so I bought all the varieties available, which are listed below. These are packed in +100g each.
1* Dried Cherry @ rm 2.80
2* Dried Pear @ rm 2.80
3* Fushion Blueberry @ rm 4.30
The spelling of the 'Fushion' is something new, not sure if it is meant to be fusion since there's no such word when I checked with the online dictionary. But well, let it be, for all we know, it might be a typo error when the shop tried to tag their item.
All four types of dried fruits are nice, and not too sweet. The dried cherry, dried pear and fushion blueberry have higher water content than the apple crisp, since well, they undergo different process, I presume. Probably just normal dried process like the raisins. Anyone would like some, as now I got 4 types of dried fruits to finish. :)