From one blogger to the next lazy blogger (which is me), I jumped onto this recipe for it calls for the least amount of work, but maximum end result. Thanks Peony, can always count on you for such easy-peasy recipes.
Well, my end-product was less that satisfactory, due to my own silly decision to half the recipe. Will need to re-attempt this, in fact, I bought some fresh rosemary herbs just last Saturday, chanced upon them @ Tesco for RM 1.79 for a mini pack of 20g. Gotta get my act together before they wilt. Keeping my fingers crossed that I will do it composing this.
My hesitation in bread-making stems from my impatience to wait for the dough to rise to double. I would be like checking the dough every few minutes, so unless I know for sure that I will be heading out to run some errands and won't be home to so as to let the yeast has some "peace" in working its magic, I normally would give breads a pass to DIY at home. But then again, I had to make sure I finish up the yeast that I got in the fridge lest they became stale and inactive. The "Fermipan" brand of instant dry yeast was a product that chef William Tan promoted during one of the demo classes that I attended F.O.C., so it was cheaper to get it after that particular class than at any other time. I know it's a classic case of penny wise pound foolish, hahah...and I got myself a box of 5 packs each. Always the scenario of buy-now-think-later syndrome, haiz. I am now at the 'later' stage.
Ok, back to the topic, no kneading and punching synonymous with typical bread making caught my eyes, all one needs it to plop the dough after mixing into the fridge and bake it the next day. In fact, it is recommended that the dough should not be overworked so that it remains soft and sticky. Translated to be the less work, the better the yield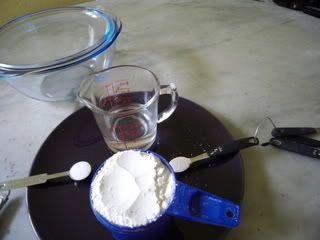 250ml warm water
1 tsp instant active dry yeast (equivalent to 5g or half a packet as one packet is usually 11g)
1 tsp fine salt
280g plain flour
some olive oil
own choice of sprinkling:
* fresh or dry herbs such as rosemary, parsley
* olives ring
* chopped garlic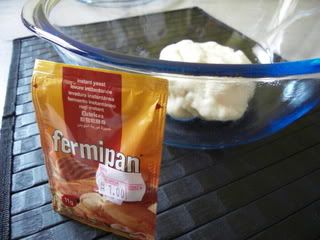 1/ Dissolve the yeast in the warm water, give it a stir.
2/ Sift 140g of the flour and salt together in a big bowl, then create a well in the middle then pour in the yeast mixture and stir for 2 minutes.
3/ Top with the other 140g of flour and mix for just about 4 minutes.
4/ Place the dough onto a well-oiled bowl, cover and let it proof overnight for 12 hours in the refrigerator.
5/ Thaw dough 2 hours prior to baking.
6/ Put the dough into 9.5" x 5" baking tray , sprinkle with some olive oil and sprinkle toppings of choice before baking
at pre-heated over of 230° for 15-20 minutes till the top is lightly browned.
p/s: Mine end up being almost like garlic naan because it's too short in height, thus I cut them up into strips to be dipped in the soup.