Having tried making pancakes using baking powder as the raising agent, my curiosity (as usual *wink*) led me to give yeast as a leavening a go...the results is satisfactory! The pancakes that this mixture yield were fluffy and soft, the best so far I have tried from the numerous recipes I tested, ranging from adding yoghurt, cornflour and etc to the usual suspects of flour, eggs and milk that form the basics of p.a.n.c.a.k.e..
However, be forewarned that the time needed to prepare this batter is a whole 2 hours, yesh! you read it right, 120 minutes... It's more like the time needed for the yeast to play its magical powers...but trust me, the end product is worth the wait :)
Here's introducing the Blinis, a Russian Pancake. Supposedly, blinis is a savoury type of pancake served with sour cream and caviar, or with sour cream/cream cheese mix and salmon or tuna and edges of lemon, but I had my blinis the usual way, with peanut butter and honey. So in other words, blinis can be eaten either savoury or sweet, depends on one's liking.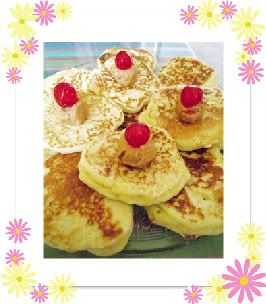 Blinis, traditionally made using buckwheat flour
What you need:
250ml milk, warmed
1 1/2 tsp sugar
15g (0.5 oz) fresh yeast [I used 1 tsp dry yeast]

125g (4 oz) all purpose flour
60g (2 oz) buckwheat flour

60g (2 oz) butter, melted
2 nos egg yolks
pinch of salt

2 nos egg whites


How to:
1/ Place the yeast in the warm milk with the sugar and half the amount of the flour and let it prove for 20 minutes. Mixture will turn frothy, which is a good sign that the yeast is active.
2/ Mix in the rest of the ingredients except for the egg whites and let the batter rise to double the volume, about an hour. Mixture will now resemble that of bread dough.
3/ Whisk the egg whites to soft peak and incorporate it into the batter, and let rise again for 20 minutes. Dough will deflate, but it's ok.
4/ Cook as for pancakes but make them small.
Yield: 12 pieces of blinis of single scoop batter (using 5cm diameter ice-cream scoop).